So you have decided that you would like an automatic door!
Firstly we can provide you with a new door which is automated whether it's an Up & Over, Sectional door, Roller Shutter or Side Hinged door.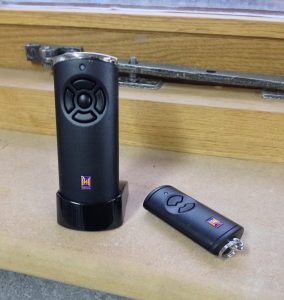 If you are looking to automate an existing door then please read on.
In all cases, the first rule of automation is that your door must be moving up & down in a smooth motion without snagging or catching on the frame etc. If it is, this needs to be corrected first.
The second most important rule is that your garage door is correctly balanced. This is done by opening your door to your waist height & letting go of the door. The door should stay in this position & not drop. If the door drops it is too heavy & the springs will need adjusting or replacing/upgrading.
If the door flies up, then there is too much tension and this needs to be reduced.
If this is correct the motor won't be labouring & will prolong its life & that of your door.
As always, lubrication is important on all the pivot points & wheels etc.
Firstly, what type of door do you have?
Is it a canopy type door & frame? This type usually has a long spring running along the stop of the frame.
Double or single, the retractable type frame is really best designed for automation as the door can be pushed & pulled by a motor easily. The springs are normally on the legs at either side & the door runs onto horizontal tracks.
If your door is the canopy type and has a wooden frame (75mm minimum) then we recommend that you fit one of our ARCADIAN conversion kits to transform it to a retractable frame. This is an option if you want to keep your existing door but add automation.
Please note on narrow doors your drive through width may be reduced.
Please contact us for the correct model & have a look at our Facebook page under videos.
We do Offer Bow arm kits which can convert modern 7′ tall doors. These would be fitted to Hormann or Garador Canopy type doors pictured below. These Bow arms are specially made for these doors and work very well.
This is not advisable if your door is 6'6″ tall as the reduction in headroom is too low when the door is open.
If you have a sectional door, this will have similar framework as the retractable door frame above.
Roller shutters are also available with motors & as manual, please look at the roller shutter pages for further information.
If in doubt please contact us, we will be happy to advise or arrange a survey to give further advice on which option best suits your needs.
.so-widget-sow-button-flat-c1c9ed22eb8c .ow-button-base { zoom: 1; } .so-widget-sow-button-flat-c1c9ed22eb8c .ow-button-base:before { content: "; display: block; } .so-widget-sow-button-flat-c1c9ed22eb8c .ow-button-base:after { content: "; display: table; clear: both; } @media (max-width: 780px) { .so-widget-sow-button-flat-c1c9ed22eb8c .ow-button-base.ow-button-align-center { text-align: center; } .so-widget-sow-button-flat-c1c9ed22eb8c .ow-button-base.ow-button-align-center.ow-button-align-justify a { display: inline-block; } } .so-widget-sow-button-flat-c1c9ed22eb8c .ow-button-base a { -ms-box-sizing: border-box; -moz-box-sizing: border-box; -webkit-box-sizing: border-box; box-sizing: border-box; font-size: 1em; padding: 1em 2em; background: #0a4527; color: #ffffff !important; border: 1px solid #0a4527; border-width: 1px 0; -webkit-border-radius: 0.25em 0.25em 0.25em 0.25em; -moz-border-radius: 0.25em 0.25em 0.25em 0.25em; border-radius: 0.25em 0.25em 0.25em 0.25em; text-shadow: 0 1px 0 rgba(0, 0, 0, 0.05); } .so-widget-sow-button-flat-c1c9ed22eb8c .ow-button-base a:active, .so-widget-sow-button-flat-c1c9ed22eb8c .ow-button-base a:hover { color: #ffffff !important; } .so-widget-sow-button-flat-c1c9ed22eb8c .ow-button-base a.ow-button-hover:hover { background: #0d5731; border-color: #0d5731; }